Welcome to a simple page that tells of a Journey of 2 people who fell in love over 9000 miles, a internet connection, phone line and in person. I am currently planning on visiting my Babygirl in late April and spending my Birthday there with my sweety :-)
Its not as big as I would have liked for it to be but we are on a budget here and this engagement ring will have to do for now.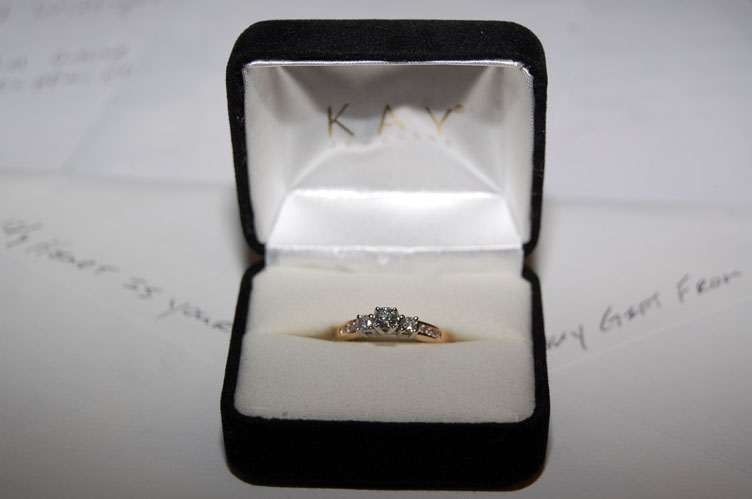 This is a fun-page with neat information about myself, the Lady I love, our Families and the preparations, trip plans and processes involved in bringing a Gift from God Filipina to the United States for life, love and marriage.
First on the the list of things to put on this page aside from our obvious Love for one another would be a heartfelt thank you to the Company who made it possible for me to meet and fall in love with such a Gift from God.
A humble thank you to the great people at

/Cherry Blossoms :-)
They have been around since 1974, are known as the Worlds 1st Picture Personals and in my opinion have a wonderful, professional and helpful Service available to anyone regardless of your comfort level with the internet or a Computer.
My Story:
I have had a Profile on the CB site since 2002, spent a little time years ago receiving messages from Ladies who simply play games to try and coax money from trusting people with good hearts. Here is where the professionalism of CB earns my utmost respect, after reporting several supposed Ladies for simply trying to achieve financial gains from guys such as myself , upon reporting them to CB, they were no longer on the site within 2 days.
CB is fantastic at policing their site for such scamming/con types but at 75,000+ profiles it easy to see how some may slip through the cracks.
I am a divorced Father of 2 great boys and I in essence put my love/social life on hold to work and raise my boys anyway. I dated a little but never found the one that spoke to my heart and made me feel as though God was in it so I put my head down and went to work on being a great Employee and Dad.
I have been divorced since 1999-2000 and previously held soul custody of both boys since that time until this last year allowing the youngest to reside with his Mother and Stepfather per his desires. When I wasnt working I was busy being the cool Dad, buying motorcycles, camping, teaching the boys how to hunt, repair motors, football, golf, bowling, anything and everything that would be of joy to my boys.
My childhood was not all that memorable and at times hard so I wanted much more for my boys and made them having a joyful childhood my priority.
I share this overview of parenthood to simply lead to this, after running into several scammers on CB I elected to be Dad/Worker and although I had my profile there for years on CB, I changed it to inactive and stopped paying the necessary fees to initiate contact with anyone.
Here is a bit of information Charmagne will enjoy reading on this site. I paid the fees specifically to contact her because I was so impressed with her in general upon reading her profile :-) My account was still in a inactive or unused state after years of being there til I read her description of herself and her desires for life :-)
I am a 44 year old Dad of 2 teenage boys who resides in the Dallas, Texas area. I have an Associates Degree in Applied Science, Computer Science and I currently hold a great number of F.E.M.A Certifications in Emergency Management which I acquired shortly after 9/11 via testing through Homeland Security.
I was a Level III Verizon FIOS Tech. and now work across the street persay for ?AT&T Uverse as a Level II UFO Technician focusing on Phone, Internet Connections and Video.
Data is my specialty field (aka: connections of internet wired or wireless and small networks).
There you have a little about myself, now you have a general idea of the Author of this page :-) Below you will find links to alot of great info. regarding my Babygirl (Charmagne) and the processes and plans to complete this journey of ours which does not end but simply begins with us as Mr./Mrs. :-)
Feel free to click on the links below and I hope you enjoy the webpage as much as I enjoy writing it for my Beloved Asawa Ko Charmagne.
Charmagne Troy The Kids Jewelry by Charmagne Travel Chars Family Family#2 Current Events
Give us your opinion or request Custom Jewelry Pricing Aury